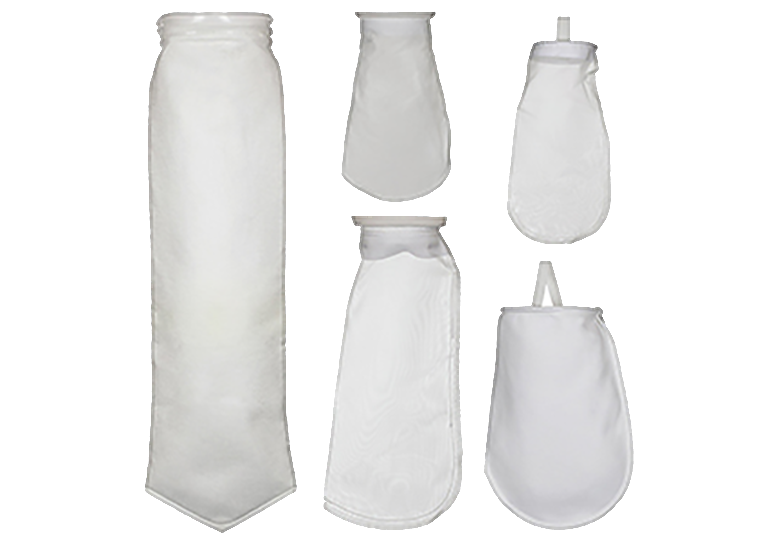 TOTAL FILTRATION SUPPLY A WIDE RANGE OF BAG FILTERS IN STANDARD AND BESPOKE SIZES, ALL MANUFACTURED IN THE UK.
Filter bags offer bulk particulate filtration capabilities across a wide range of rates and efficiencies, making them an excellent option for pre and final filtration. 
Simple to use and easy to install Total Filtration's liquid filter bags offer economical filtration for a wide array of applications.  The unique bag designs provide added strength and avoid risk of bypass.  Our filter bags fit all industry-standard bag housings.
All our bag filters are available in three FDA compliant media formats of which polypropylene felt is suitable for most applications. Polyester felt should be selected where solvent compatibility and high temperature are required and for coarser filtration, mesh, which is washable and reusable, is offered from 50 – 1000 micron.
Also available are double-layer polyester and polypropylene extended life, nylon multi-filament, Teflon and oil-removal media. 
Economic Range   1 – 1000 micron
Standard Range   1 – 100 micron
Premier Range   0.5 – 25 micron
Filter Bag Material Compatibilities: 
| Compatibility | Polypropylene | Polyester | Nylon |
| --- | --- | --- | --- |
| Weak acids | Excellent | Very Good | Fair |
| Strong acids | Excellent | Good | Poor |
| Weak alkali | Excellent | Good | Excellent |
| Strong alkali | Excellent | Poor | Excellent |
| Solvents | Fair | Good | Good |
Benefits of bag filtration
High flow rates are achieved in a much smaller sized housing compared to filter cartridge housings, reducing costs
Wide range of micron sizes available 1 to 800
Simple to use and easy to change reducing operator costs