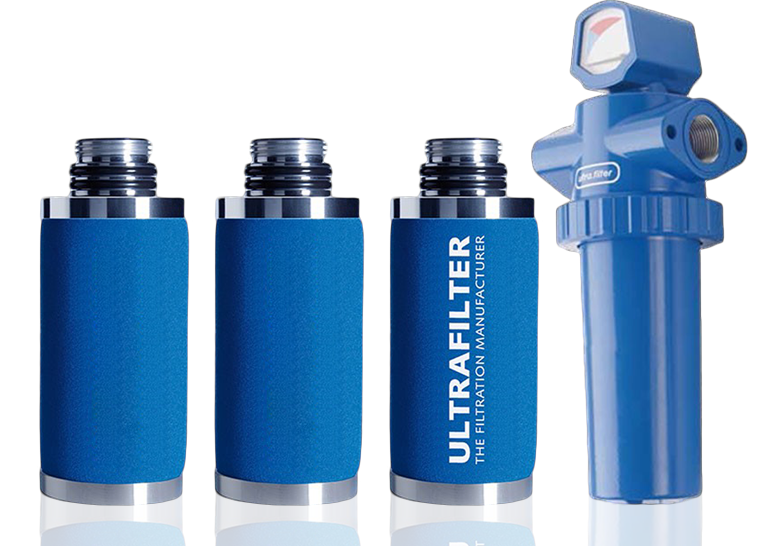 Total Filtration are partners with Ultrafilter and can offer many kinds of compressed air filters that are compatible with compressed air systems of all brands.
We also offer compressed air dryers, adsorption and membrane dryers in addition to auto drain compressors, compressed air tanks and oil-water separators.  Additionally, we have a sterile, compressed air filter for food and beverage applications.
Compressed air contains water, oil and particles; therefore, it is a good idea to filter your compressed air before it is used in production, the quality of the compressed air depends on how and where you need to use it.
Total Filtration offers all types of compressed air and technical gas filtration and have extensive experience with compressed air and compressed air filters.
Compressed Air Filter – AG
AG standard filter housings are designed for the purification of compressed air and gases in an industrial operation. This product series offers 14 different housings ranging from a volume flow of 20 m³/h to 2880 m³/h (related to 1 bar and 20°C).
The housings are made from three parts and due to an optimized construction, offer low differential pressures at high flow rates and as a standard equipped with a manometer and a float type drain.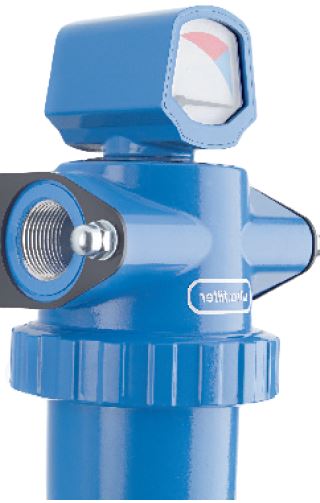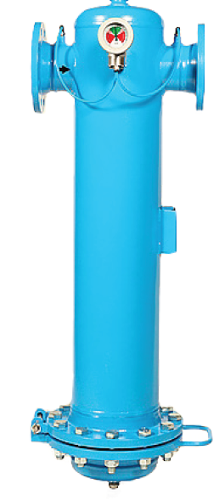 Filter Housing & Flanges – SG
SG filter housing series with bottom opening for easy maintenance and exchange of filter elements. For higher filtration efficiency with Ultrafilter "High Performance" filter elements.
The SG filter housing offer minimal pressure loss due to improved flow technology and we guarantee the filter a long life thanks to the resin coating and the automatically controlled, level sensing float drain.
The SG filter housing comes with flange connections from DN50 to DN300.
Max. operating pressure: 16 bar.
Prefilter Elements – SB/PE
PE elements are made of a sintered polyethylene filter media and guarantee absolute retention rates, such as direct impact and sieve.
The SB is a prefilter, developed for retention of particles and liquids out of compressed air. The sintered stainless-steel filtration material assures high thermal durability.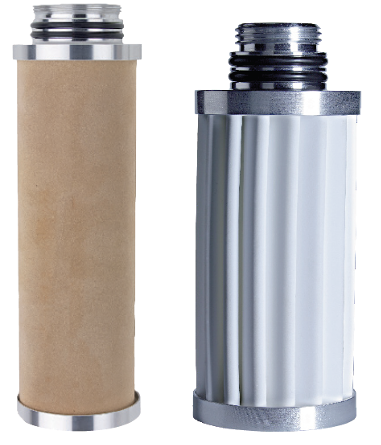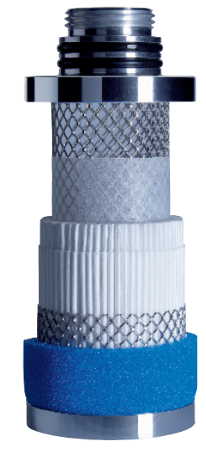 Microfilter Elements – FF / MF / SMF
Total Filtration offers filter elements for most compressed air applications. These high-quality filter elements are made with the finest pleating technology and aluminium endcaps.
The FF/MF/SMF filter elements are made with a pleated oleophobic filter media that rejects oil and water.  Advanced pleating techniques mixed with nano technology, makes our "High Performance" filters much more effective than a standard filter, as the pleating provides a 450% larger filtration surface per square inch.  The unique pleating also secures a much larger particle retention capacity.
The benefits of using this type of filter is low differential pressure, up to 70% lower energy costs and improved efficiency of filtration.
Activated Carbon Elements – AK / AKK
We offer filter elements for most compressed air applications. These high-quality filter elements are made with the finest pleating technology and aluminium endcaps. Unique to the industry with their extremely low differential pressure.
The AK filter elements consist of a two-stage filtration. All particles are kept in a nanofiber depth filter media, while the activated carbon adsorbs all oil vapours and gaseous hydrocarbons.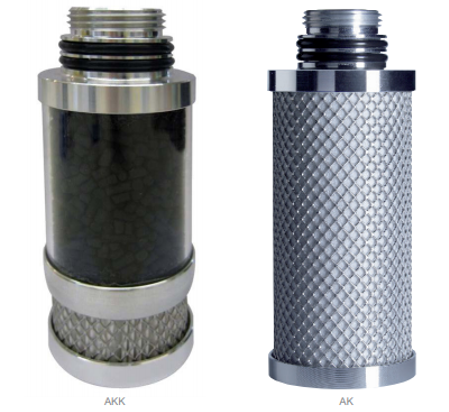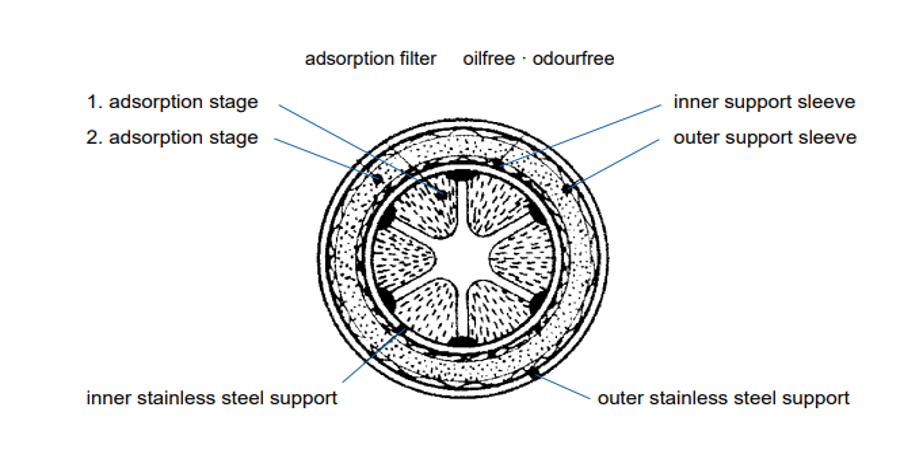 Alternative Filter Brands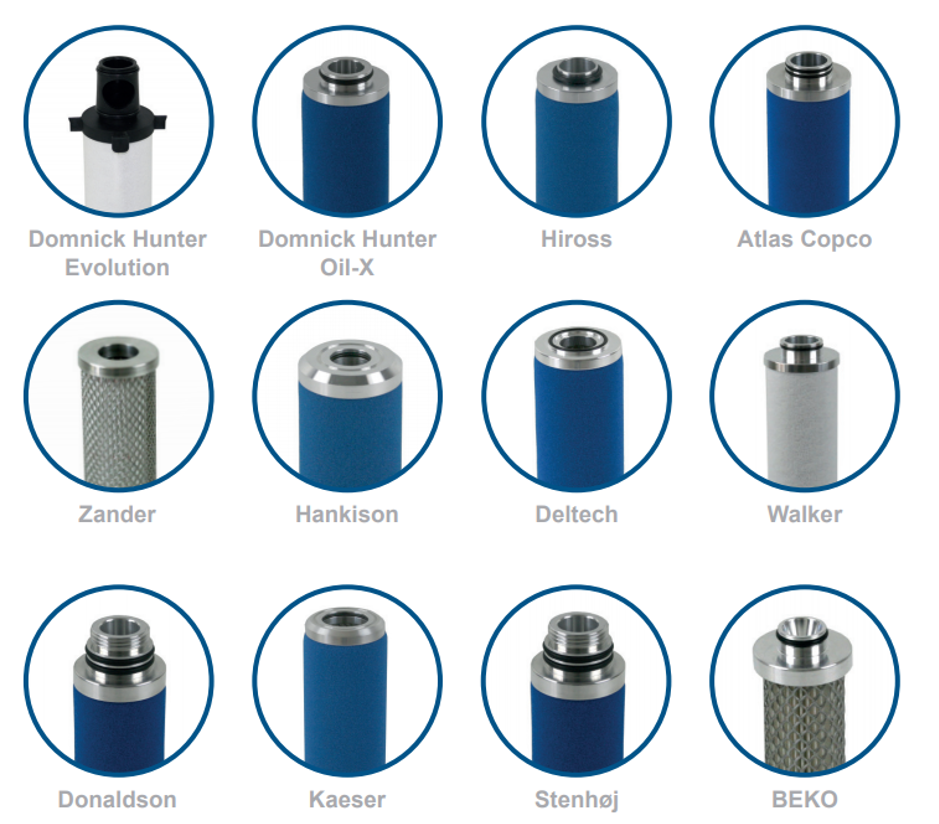 End Cap Configurations
Ultrafilter standard end caps